Most Masters Colors products are manufactured in France in the laboratories that also produce Europe's leading beauty salon skincare products, thus guaranteeing quality, safety and traceability in the service of beauty.

All our product formulas are paraben-free and the active plant ingredients used are derived from GMO-free plants. As an environmentally friendly brand, Masters Colors is committed to manufacturing methods that respect the environment.

For Masters Colors, a quality product is only possible if reliable and regular manufacturing methods are implemented, requiring the use of cutting-edge technology.

For Masters Colors, this entails: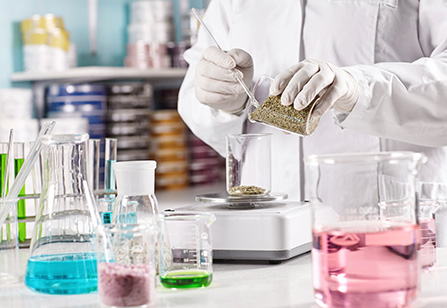 HIGH-TECH CERTIFIED LABORATORIES:

Masters Colors products produced in the GUINOT-MARY COHR factory are manufactured in compliance with pharmaceutical standards of precision and rigour.

GUINOT-MARY COHR Laboratories belong to a category of cosmetics manufacturers which have been certified by the highest quality standards conferred by the internationally recognised Bureau VERITAS certification: ISO 22 716.

This certification guarantees high manufacturing standards: clean rooms, pure water that is continuously monitored, double weighing and the traceability of each product.

In order to monitor the effectiveness of its treatment methods and products, GUINOT-MARY COHR has recreated a pilot beauty salon in its research and development centre.

This enables us to constantly assess new active ingredients resulting from recent scientific breakthroughs and to improve formulas in an effort to increase their effectiveness.

A COMMITMENT TO THE ENVIRONMENT:


All brands in the GUINOT-MARY COHR Group are world-renowned in the cosmetics field. Licensed and affiliated salons provide customers with beauty and wellness through our unique and constantly evolving savoir-faire.

Caring for and protecting the environment is part of that philosophy, which is why responsible and preventive management is a top priority.
With this in mind, we have implemented an environmental management system and opted for ISO 14001 certification through the internationally accredited Bureau VERITAS.

We ask all our suppliers to adhere to our environmental system.

Protecting the environment is everybody's business. That's why we have opted for voluntary environmental certification and a continual improvement process.