4 Colour Eye Shadow
Four shades of eye shadow for all four seasons, suitable for day or evening make-up

Shade no.:
10
● The eyes are shaded in harmonious colours.
● The results are instant and impeccable: a silky texture ensures the product adheres instantly to the eyelids without moving around.
● Long-wear.
● Hyaluronic Acid Spherical Fillers: smooth the eyelids.
● Soft Focus Powders: Illuminate the eyes.
● Apply the lightest shade to the eyelid and the darkest colour to the outer edge of the eye using the sponge applicator.
● Blend with the brush.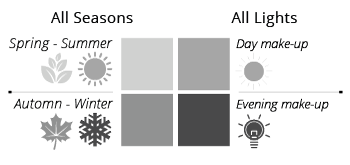 Packaging:
Case 6g